Why insulate your Room in Roof properties?
Attics and rooms in the roof are often largely untouched from the day they were constructed – leaving them too cold in winter and uncomfortably warm in the summer for most tenants.
Correctly insulating rooms in the roof will provide a massive source of potential energy savings and provide your tenants with a more comfortable house to live in – all year round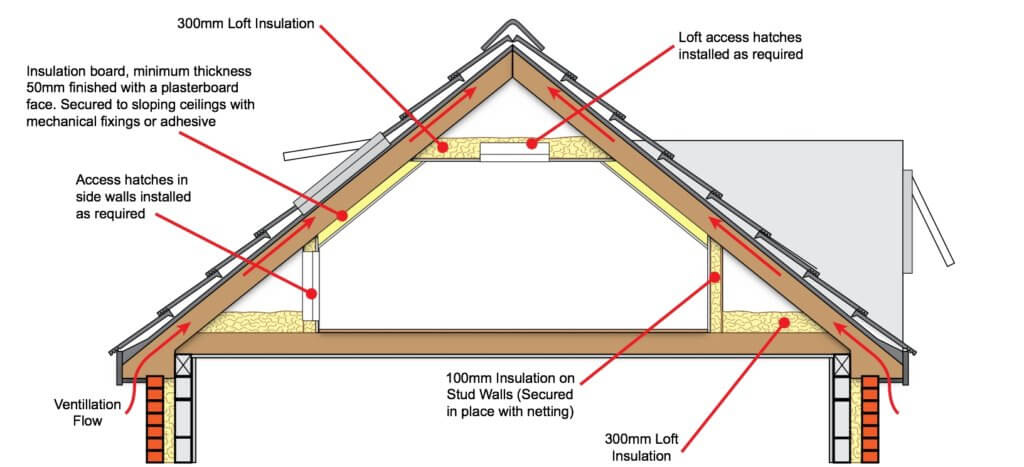 What is the Room In Roof Insulation Process?
Day 1 - SWIP Room in roof Insulation Systems secured to the internal walls of the property. Knauf Insulation Earthwool Loft Roll 44 is used to insulate the loft space or boarded if not.
Day 2 – British Gypsum Plaster is skimmed over the dry lining boards.
5-7 working days after this our painting and decorating team will paint all internal walls and secure fixtures and fittings including replacing all skirting boards.
Our installations are designed to cause minimum disturbance to yourself and your tenants. A very high percentage of our Installations are inspected on a mid-install basis by Independent Technical surveyors. This is a requirement of the Utility companies and ensures peace of mind that the installation is perfect, every single time.
ROOM IN ROOF FAQ'S
Does it make a mess? Apart from the obvious work, No! Innov8 Energy Ltds, Room in Roof installation team are time served and cause minimal disruption to tenants as possible. After the work has been completed we leave each property clean, tidy and ready to use.
How do I know it's been completed correctly? Each member of our installation team has been fully trained and are fully qualified. All our installations have to be inspected and passed by an Independent Inspection body. You and your tenants get total peace of mind and the assurance that your installation is 100% compliant.
Will the house be warmer? Insulation dramatically reduces heat loss through the insulated Room in Roof. Therefore, you will be able to achieve the same temperature in your home by turning your thermostat down a little. Your property should still achieve the desired warmth because the house will retain its heat for longer. It can also be noted that, during the summer, the insulated Room in Roof will prevent some of the sun's heat from entering your home therefore remains cooler, which many inhabitants find unbearable in summer heat.
How are we Funded? We are fully funded by the ECO scheme (Energy Company Obligation) which is paid for by the tax payer with the green levy tax that was added to everyone's energy bills; after the Kyoto summit that took place in Japan in 1997 and became effective in 2005. This means the landlord or tenant doesn't pay a penny towards the work we carry out. All materials and labour costs are paid for by the ECO scheme.
If the loft room is not insulated your tenants could be losing up to 25% of the heat generated in their homes. Insulating the walls and ceiling of the loft room could save them up to 30% on their heating bills per year.